Sagawa Art Museum was opened on March 22, 1998, as part of celebrations to mark the 40th anniversary of the establishment of Sagawa Express Co., Ltd.
The museum is located in Moriyama, in the ancient district of Omi, amongst lush natural surroundings and in view of Lake Biwa.
The S.A.M.'s mission is to contribute to the promotion and development of art and culture, through a variety of cultural initiatives, focused on the exhibition of works by outstanding artists that embody the spirit of Japanese art, such as the painter Hirayama Ikuo, the sculptor Sato Churyo, and the ceramic artist Raku Kichizaemon.
Our aim is not only to serve the local community, but also to provide a rich museum resource that is wide open to the whole world.
Sagawa Art Museum

Concept : Prayer for Peace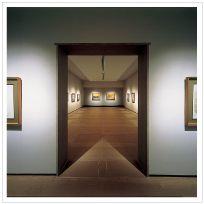 Yearning for Peace
Throughout the year, the museum space dedicated to Nihonga(traditional Japanese-style painting), named "Prayer for Peace," presents theme-based exhibitions of approximately 50 works, selected from our collection of more than 300 paintings by Hirayama Ikuo, whose major lifework is the "Silk Road" series, concerning the diffusion of Buddhism through Asia.
We thus present an insight into the world of Hiryama Ikuo, and his exploration of the wellspring of Japanese culture.
Exploring the ideal way to present Nihonga paintings, we are exhibiting these works under soft lighting to give maximum expression to their profound appeal.

Concept : Bronze Poetry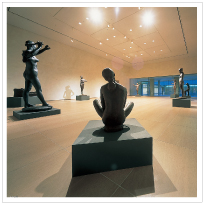 Warm scenes, seen with gentle gaze
This section of the museum, called "Bronze Poetry," is devoted to sculpture.
At any time here is a theme-based exhibit of some 40 sculptures and sketches, selected from our collection of over 100 works by internationally renowned Japanese sculptor Sato Churyo, spanning his entire career--from his beginnings to his present work. To this day,as he has done for many, many years, Sato explores and gives expression to the "beauty of the human."
His works, which principally depict women and children, are characterized by the warm gaze he lends to the humanity of his subjects.
Come to witness and enjoy the masterpieces of Sato Churyo.

Concept : Shuhari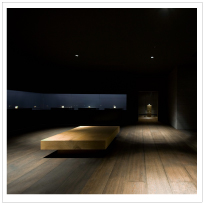 Centering ourselves vertically, gently
This section of the museum is composed of an exhibition room and tea room, laid out within a water garden, according to the concept of shuhari (three stages of learning an art from a master: shu = following; ha = breaking out; ri = separation).
This wing of the museum is truly unique, because the artist himself has designed not only the art works on exhibit, but also a tea ceremony room.
On display here is a wide range of ceramic artworks by the 15th Raku Kichizaemon, mostly created since 2000.
These include yakinuki black raku tea bowls, black raku tea bowls, yakinuki tea jars, and yakinuki water jars, which enable visitors to observe the evolution of the artist's output.
Come and immerse yourself in this otherworldly underwater space, to be enchanted by the masterful art of the present Raku Kichizaemon.