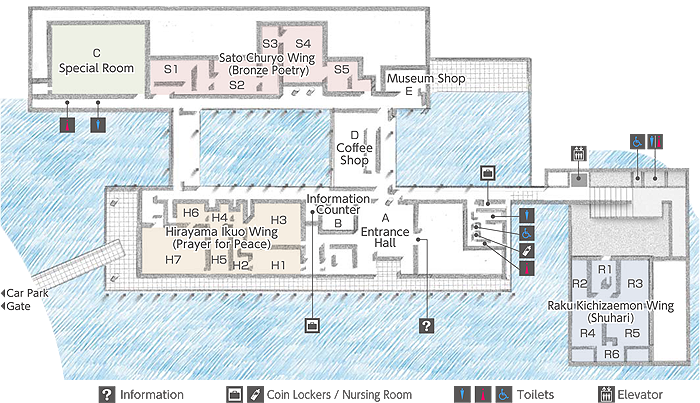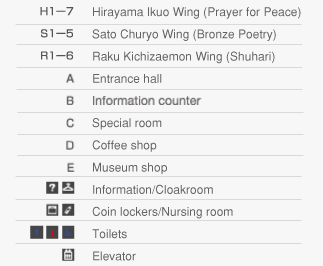 Please do not touch any of the items on exhibition.
Please avoid using mechanical pencils or ink-based writing tools such as fountain pens and ballpoint pens while in the museum building.
Please avoid using mobile phones inside the museum building.
Please avoid eating, drinking, or smoking, except where permitted.
Please do not use flashes or tripods for taking photos.
Admission to the museum with pets is not permitted.
Hazardous items cannot be brought into the museum.
Please avoid doing anything that might disturb other museum visitors.


Relax with a view of the water garden, and enjoy a selection of fine refreshments from the original menu.


Original art goods to commemorate visits to the Sagawa Art Museum, and many wonderful gift ideas.


This classic Japanese tea house, designed by Raku Kichizaemon, is composed of a submerged koma (small tea room), and a hiroma (large tea room) that floats on water, and they combine to form a truly unique floating space.

The Special Room is a venue for the promotion of art and culture, through special exhibitions and lectures organized by S.A.M. This facility is also used for a wide variety of other events, including concerts and workshops.